Identity
VALLEIN-TERCINIER
Domaine des Forges
17460 Chermignac (FRANCE)
This email address is being protected from spambots. You need JavaScript enabled to view it.
Phone : +33 5 46 92 64 30
Legal form : SARL SARL au capital de 76 000 €
SIREN 526 880 117 000 19
APE: 1101Z
TVA FR 465 268 80 117
Editor
VALLEIN-TERCINIER
Domaine des Forges
17460 Chermignac (FRANCE)
This email address is being protected from spambots. You need JavaScript enabled to view it.
Phone: +33 5 46 92 64 30
Publication director : Catherine ROUDIER-TERCINIER
Hosting
SAS OVH
2 rue Kellermann
BP 80157
59100 Roubaix
FRANCE
http://www.ovh.com
Personal data and cookies
Some cookies are essential and necessary for the proper functioning of a website. These are for example cookies allow the website to register your preference. This type of cookie facilitates your navigation and only the site of Cognac Vallein-Tercinier is entitled to recognize them and "read" them. By definition, these cookies can not be disabled.
Analytics cookies help us improve the user experience. We use services like Google Analytics to understand how our visitors come to the site and use it. Our partners, service providers, such as Google, place audience analysis cookies on behalf of cognac-tercinier.com.
Désolé nous n'avons pas trouvé la page demandée!
Sorry we missed the requested page !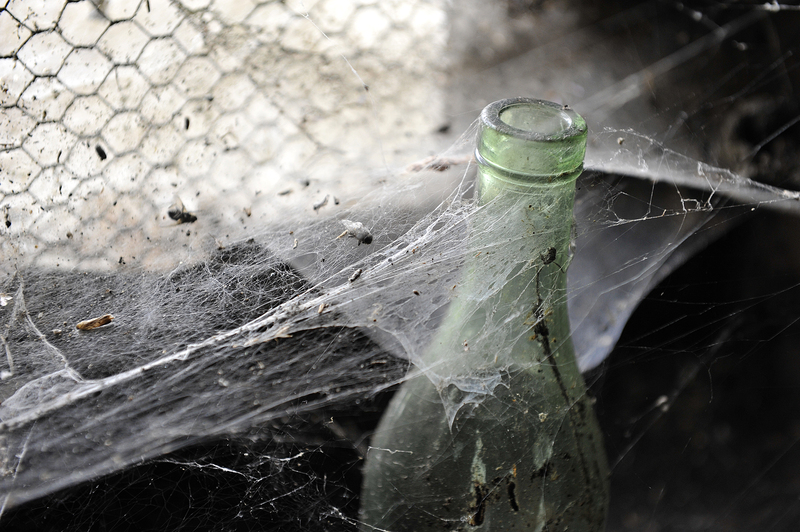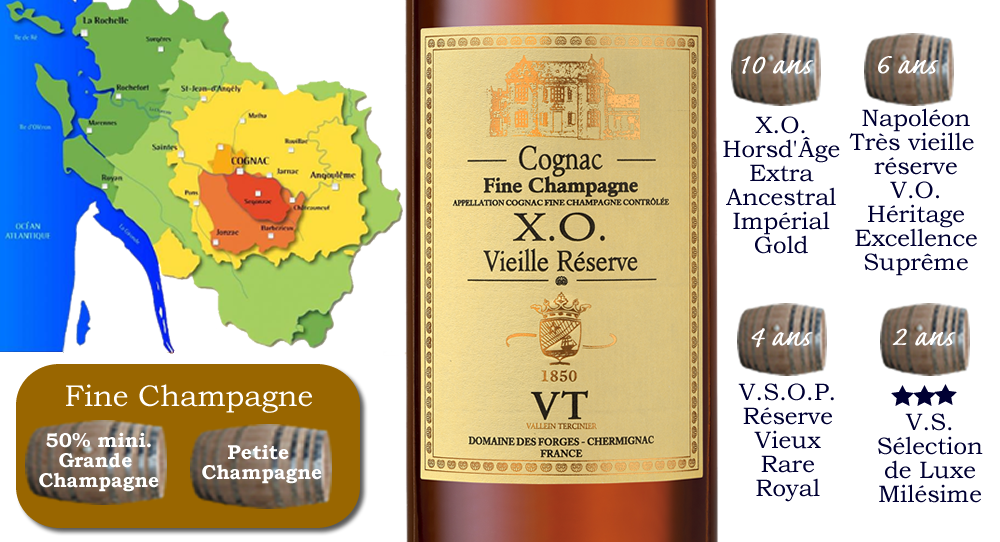 According to the Bureau National Interprofessionnel du Cognac (BNIC), the official quality grades of cognac are the following:
V.S. (Very Special) or ★★★, (three stars) , De Luxe, Sélection ou Millésime

Designates a blend in which the youngest brandy has been stored for at least two years in cask.

V.S.O.P. (Very Superior Old Pale), Réserve, Vieux, Rare, Royal

Designates a blend in which the youngest brandy is stored for at least four years in a cask.

X.O. (Extra Old), V.O. (Very Old), Napoléon, Très Vieille Réserve, Héritage, Excellence, Suprême

Currently designates a blend in which the youngest brandy is stored for at least six years.
The minimum storage age of the youngest brandy used in an X.O. blend will be increased to ten years in April 2018; this rule was originally scheduled for implementation in 2016 but was postponed due to inadequate stocks.
The Napoleon designation, previously unofficial, will then be used to specifically denote those blends with a minimum age of six years that do not meet the revised X.O. definition.

X.O. (Extra Old), Hors d'âge (Beyond Age), Extra, Ancestral, Impérial ou Gol

Designates a blend in which the youngest brandy is stored for at least ten years in a cask.
Hors d'âge is a designation which BNIC states is equal to XO, but in practice the term is used by producers to market a high-quality product beyond the official age scale.
The names of the grades are in English because the historical cognac trade, particularly in the 18th century, significantly involved the British.
Source : wikipedia.org
The origin of Cognac
Unique conditions of climate, terrain, proximity to the sea make the Delimited Cognac Region a "happy chance of nature". Its vineyard counts approximately 80000 hectares, distributed between the departments of Charente and Charente-Maritime, to which are added two enclaves in Deux-Sèvres and Dordogne. It consists of white grape varieties: UGNI WHITE, WHITE FOLLY, COLOMBARD, for the main ones.
The creation of the vineyard of Saintonge probably dates from the end of the 3rd century thanks to the Roman emperor Probus who extended then to all Gauls the privilege to have vineyards and make wine. In the thirteenth century, a large vineyard, built around La Rochelle, produced wines appreciated by the inhabitants of the countries bordering the North Sea. It was therefore from the Middle Ages that appeared in the Charente basin conditions conducive to trade. After the salt trade, the cultivation of the vine would become the basis of the Charente's economy.
Acids and low degree, the wines from this region suffered long voyages at sea. In the 17th century, the Dutch and English merchants found it more advantageous to import the product of the vineyards of Saintonge, Aunis and Angoumois in the form of brandy, representing a reduced volume, less expensive to transport. Added with water, this product took the name of "brandwijn" (wine burnt) .After economic crises, stocks of eaux de vie remained unsold. It became clear that they improved with age and could be consumed pure.
Cognac was born.
Making Cognac
Grapes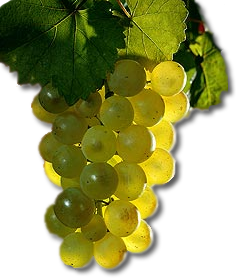 The white wine used in making cognac is very dry, acidic and thin. Though it has been characterized as "virtually undrinkable », it is excellent for distillation and aging. It may be made only from a strict list of grape varieties. In order for it to be considered a true cru, the wine must be at least 90% Ugni blanc (known in Italy as Trebbiano), Folle blanche and Colombard, while up to 10% of the grapes used can be Folignan, Jurançon blanc, Meslier Saint-François (also called Blanc Ramé), Sélect, Montils or Sémillon. Cognacs which are not to carry the name of a cru are freer in the allowed grape varieties, needing at least 90% Colombard, Folle blanche, Jurançon blanc, Meslier Saint-François, Montils, Sémillon, or Ugni blanc, and up to 10% Folignan or Sélect.
Fermentation & distillation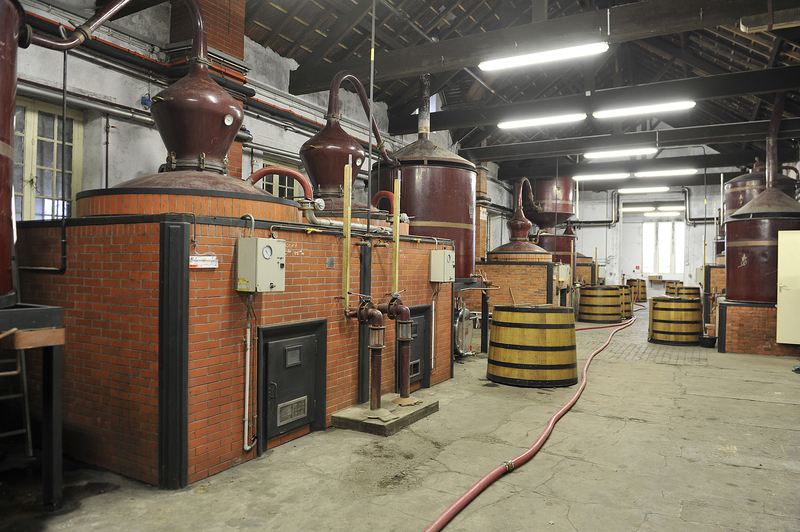 After the grapes are pressed, the juice is left to ferment for two or three weeks, with the region's native, wild yeasts converting the sugar into alcohol; neither sugar nor sulfur may be added. At this point, the resulting wine is about 7% to 8% alcohol.
Distillation takes place in traditionally shaped Charentais copper alembics stills, the design and dimensions of which are also legally controlled. Two distillations must be carried out; the resulting eau-de-vie is a colourless spirit of about 70% alcohol.
Ageing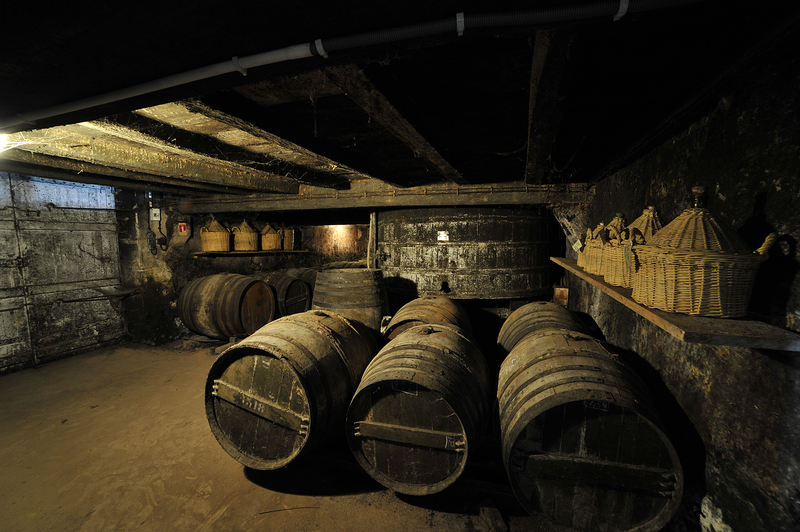 Once distillation is complete, it must be aged in Limousin oak casks for at least two years before it can be sold to the public. It is typically put into casks at an alcohol by volume strength of about 70%. As the cognac interacts with the oak barrel and the air, it evaporates at the rate of about three percent each year, slowly losing both alcohol and water. This phenomenon is called locally "La part des anges", or "The angels' share". Because the alcohol dissipates faster than the water, the alcohol concentration drops to about 40% over time. The cognac is then transferred to large glass carboys called bonbonnes, then stored for future blending. Since oak barrels stop contributing to flavor after four or five decades, longer aging periods may not be beneficial.
Blending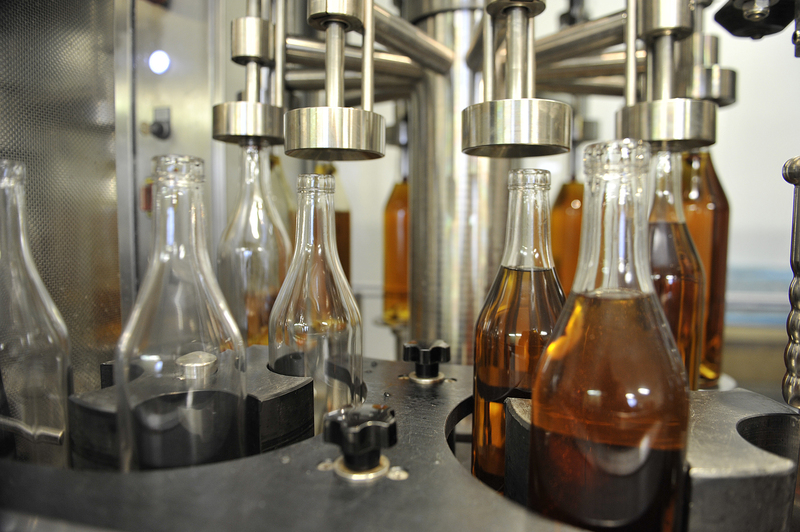 The age of the cognac is calculated as that of the youngest component used in the blend. The blend is usually of different ages and (in the case of the larger and more commercial producers) from different local areas. This blending, or marriage, of different eaux-de-vie is important to obtain a complexity of flavours absent from an eau-de-vie from a single distillery or vineyard. Each cognac house has a master taster (maître de chai), who is responsible for blending the spirits, so that cognac produced by a company will have a consistent house style and quality. In this respect it is similar to the process of blending whisky or non-vintage Champagne to achieve a consistent brand flavor. A very small number of producers, such as Guillon Painturaud and Moyet, do not blend their final product from different ages of eaux-de-vie and therefore produce a "purer" flavour (a practice roughly equivalent to the production of single malt Scotch whisky). Hundreds of vineyards in the Cognac AOC region sell their own cognac. These are likewise blended from the eaux-de-vie of different years, but they are single-vineyard cognacs, varying slightly from year to year and according to the taste of the producer, hence lacking some of the predictability of the better-known commercial products. Depending on their success in marketing, small producers may sell a larger or smaller proportion of their product to individual buyers, wine dealers, bars and restaurants, the remainder being acquired by larger cognac houses for blending. The success of artisanal cognacs has encouraged some larger industrial-scale producers to produce single-vineyard cognacs.
Source : wikipedia.org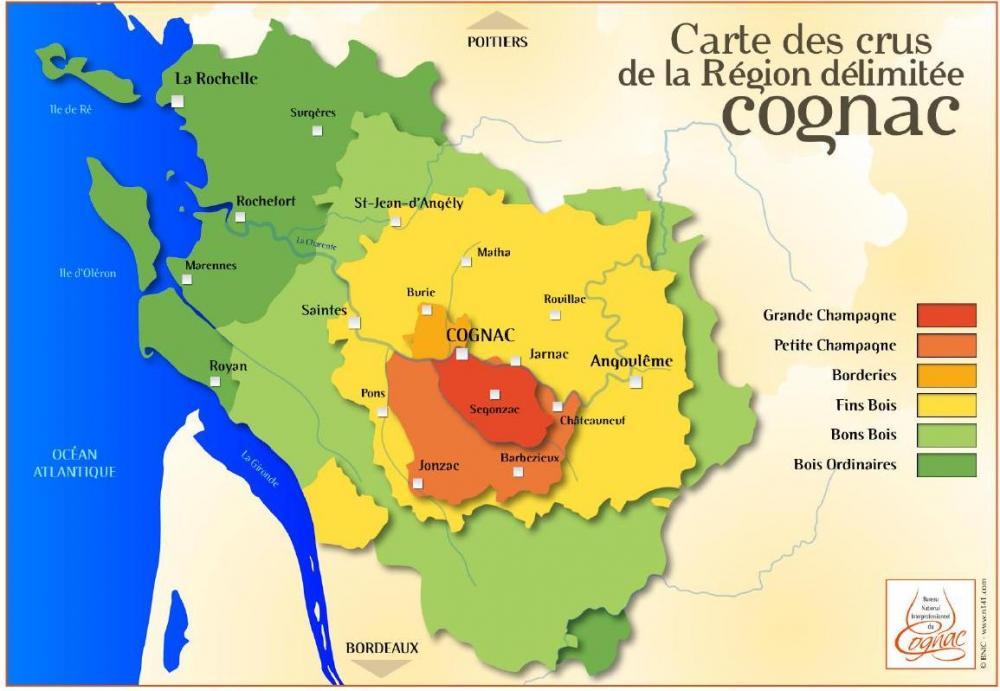 Grande Champagne
Grande Champagne is planted with about 13 159 ha of vines used in the production of Cognac white wines. These wines produce fine, light Cognacs with a predominantly floral bouquet, requiring long ageing in casks to achieve full maturity.
Petite Champagne
Petite Champagne has 15 246 devoted to Cognac production. The resulting eaux-de-vie are very similar to those of Grande Champagne, but without their finesse.
Borderies
Borderies is the smallest of the six Crus. Its soil contains clay and flint stones resulting from the decomposition of limestone. Lying North-East of Cognac, its 3 987 ha of vines produce fine, round Cognacs, smooth and scented with an aroma of violets. They reach optimum quality after a shorter ageing period than Cognacs from the Grande and Petite Champagne.
Fins Bois
Most of this area is covered by clayey, chalky soils known as «groies» very similar to those of the Champagne Crus, except for their red colour and hard stones from the Jurassic. Lying in a lower area known as the "Pays Bas" (Low Countries) north of Cognac, heavy clayey soils can also be found (60% clay). The Fins Bois surround the first three crus. Their 31 001 ha produce round, smooth Cognacs that age fairly quickly, with a bouquet that recalls the scent of freshly pressed grapes.
Bons Bois
In the Bons bois crus, we find sandy soils on coastal locations, in certain valleys, and most especially in all the southern part of the vineyard. These are sands that have eroded from the Massif Central. Vines are quite dispersed, mixed with other crops, surrounded by forests of pine trees and chestnuts. The Bons Bois form a vast belt, of which 9 308 ha are destined to Cognac production.
Bois Ordinaires
This growing area has less of 1 101 ha of vines destined to Cognac white wine production. The soil, almost exclusively sandy, lies along the coast or on the islands of Ré or Oléron, producing fast-ageing eaux-de-vie with a characteristic maritime flavour.
Source : www.cognac.fr